Christmas Crackers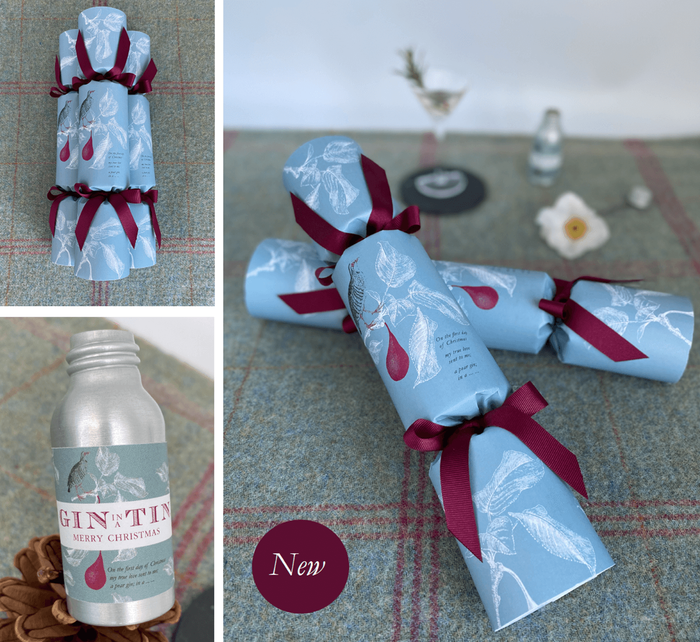 LUXURIOUS GIN CRACKERS
Start Christmas with a BANG!
On the hunt for the perfect unique gin gift? Then look no further!
Here at Gin In A Tin we feel that Christmas is truly the time to get stuffed and sloshed, and what better way to do it than with a tasty tipple of gin or two?
New to our 2023 Festive range is our debut Christmas Crackers.
Individually hand rolled and filled in Britain, with stunning hand tied ribbon bows, and yes, a real snap. Once the wonderful activity of popping crackers is over you will discover festive London Dry Gin miniatures, luxurious silver crowns, and smart gin facts/jokes to raise a smile and a giggle.
Design Options:
Our Turkey Cracker
The perfect accompaniment to any Christmas dinner table. Our Turkey Cracker, with its festive holly green and berry red colour palate, contains our delicious Christmas Gin of Orange Peel, Nutmeg and Allspice, alongside a traditional crown and smart gin fact/joke.
Our Partridge Cracker
We all know the British classic Christmas tune of, "On the first day of Christmas my true love sent to me, a partridge in a pear tree … …" A play on words, our stunning duck egg blue, and claret Partridge Cracker holds another one of our favourite Christmas gins, Gin No.14 – Packham Pear, Cinnamon and Orange Peel, alongside a traditional crown and smart gin fact.
Buying Traditions:
Speaking of Christmas tradition, we understand how frustrating it can be purchasing the correct number of crackers – particularly if you have a large family or a modest odd number. It is such a bore – why are crackers always sold in 6's or 12's? Plus, the boxes they come in, go straight into the bin, on the recycle pile or on the log fire.
Not afraid to be different, we have shaken up the traditional selling method of crackers!
All of ours are sold individually, so you can purchase the exact number you require.
In doing so it also means they can be the perfect stocking filler or secret Santa gift too.
Sustainability
Sustainability is also at the forefront of our mind, and our Gin Christmas Crackers are no exception. As well as being absolutely stunning and delicious, all the packaging is both biodegradable, and recyclable. The bows can be reused for crafting or reused for finishing small gifts. The paper used in the crackers and the hats are recycled and recyclable. The cracker paper and gin fact are both printed by local printers who are woodland trust accredited too.
All components are sourced as locally as possible to support local businesses and cut down on the carbon footprint involved in transportation of goods.
35ml – London Dry Gin @40% ABV
Allergen Advice: May contain Wheat.