21 Sep 2023
Tablescaping: The Art of Stylish Table Settings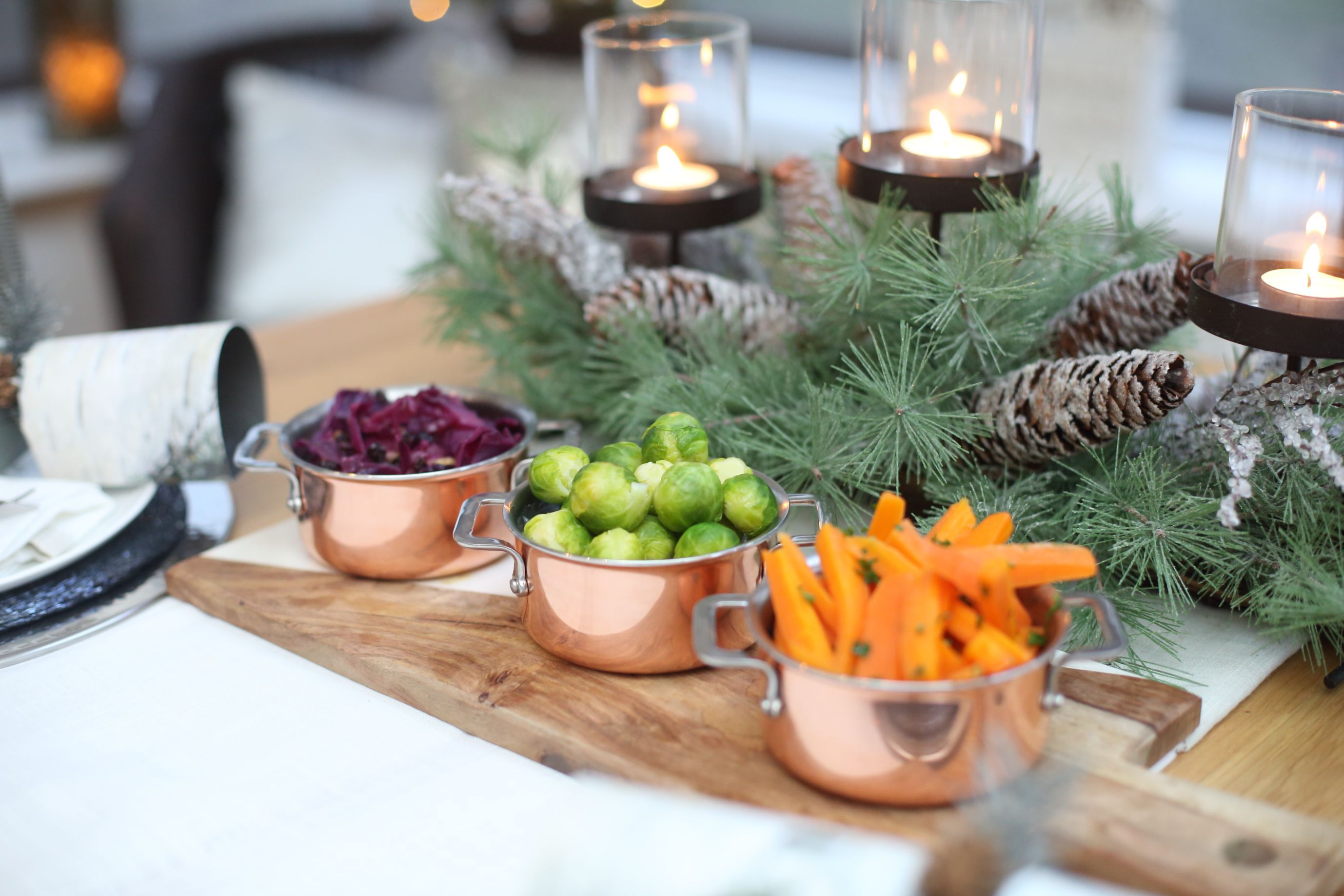 Tablescaping: The Art of Stylish Table Settings
The dining table is more than just a place to dine. It's the heart of hospitality, where memories are made, conversations are had, and guests feel welcomed. This Christmas, embrace tablescaping to create a festive, inviting setting that captivates your guests.
With attention to detail, tablescaping elevates every gathering into a uniquely special occasion. The visual appeal of a well-prepared table brings joy and thoughtfulness to the forefront. The synergy of textures, fragrances, and ambience create an immersive and memorable dining experience.
With the guidance of the skilled artisans and designer-makers at the Spirit of Christmas Fair. Running from 30 October to 5 November, this meticulously curated shopping event showcases over 700 of the UK's finest independent brands and artisan makers.
Discover tablescaping inspirational highlights from these small businesses:
Clayspoon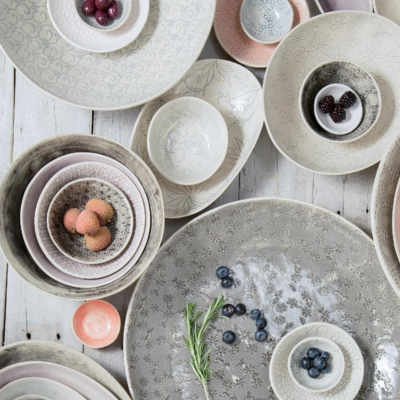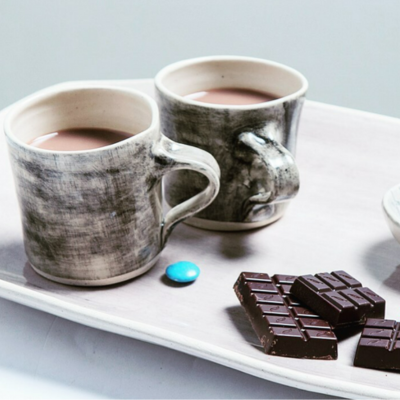 Based in picturesque Sussex, Clayspoon specialises in sourcing exceptional handmade tableware and homewares. At the core of their collection is the globally adored Wonki Ware, a treasure from South Africa. From delicate salt dishes to grand trough platters, every piece resonates with unique craftsmanship, setting the stage even before the delicacies are placed. And for a sustainable touch? Try their iconic salad bowl, covered protectively with Halo's organic cotton dish—both sustainable and stylish. Dive into a world of eco-conscious elegance with Clayspoon.
Patton House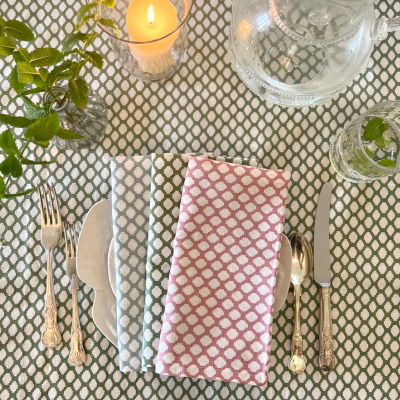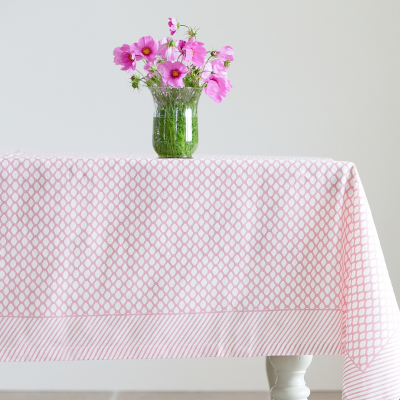 Infusing timeless elegance with contemporary flair, Patton House offers a curated range of home accessories. Their linen tablecloths and napkins transform any table into a light, cosy haven. Whether your vibe is minimalist, rustic, or opulent, their offerings serve as a versatile canvas, setting the stage for all-year-round memorable celebrations. View their full range here, but remember, they will be showcasing their newest ranges exclusively at The Spirit of Christmas Fair.
Effortless Trading Co.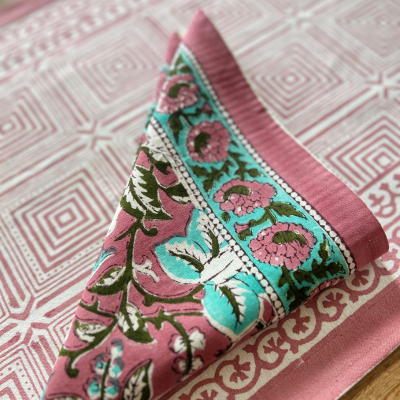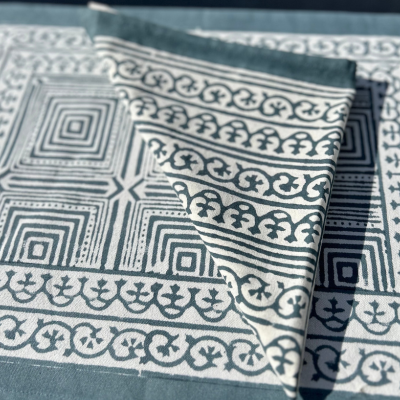 Immerse yourself in the vivid world of Indian craftsmanship with Effortless Trading Co. Partnering with artisans from the vibrant city of Jaipur, they've birthed a stunning array of block print table linens. From geometrically patterned tablecloths to contrasting placemats and napkins, they empower you to craft a tablescape that's distinctly yours. Explore their artistic universe here.
Just Slate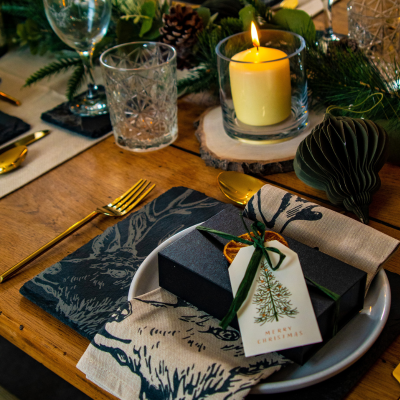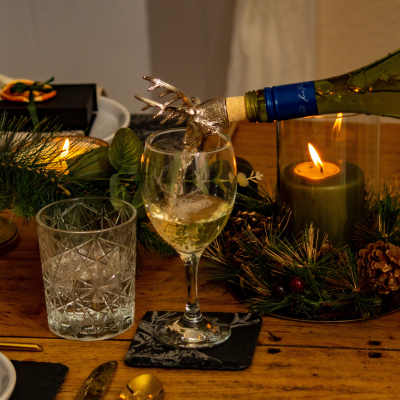 Crafting tablescape masterpieces becomes a joy with Just Slate's handcrafted offerings. Begin with their slate placemats and coasters, set against matching linen table runners, to infuse a touch of country sophistication. And for those keen on spirited conversations, their stag and cow wine pourers are conversation starters in their own right. Delve into their full range here.
From the Oak Tree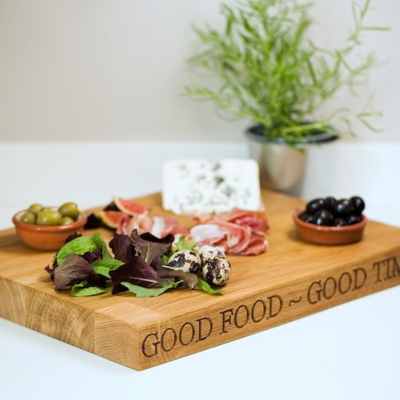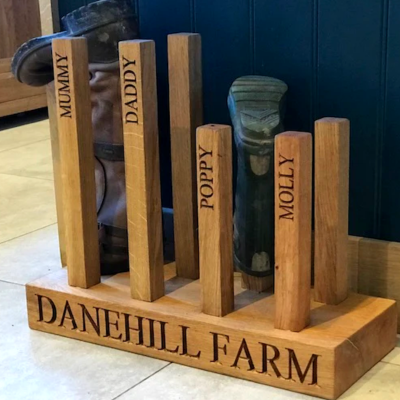 Oak, with its timeless grace, seamlessly fits into any décor, be it modern or traditional. Envision breakfasts elevated with oak toast racks and dippy egg boards or sumptuous dinners crowned with an oak cheese board. Their exquisite pieces not only offer aesthetic value but also stand as heirloom treasures, marking memories across generations. Experience the warmth of oak here.
Alina Candles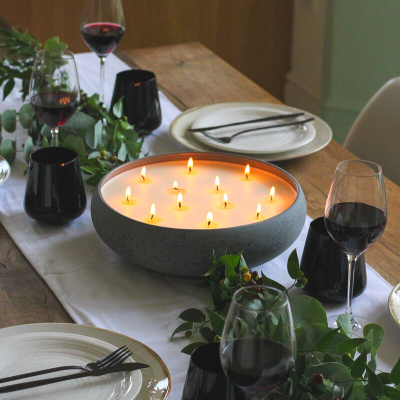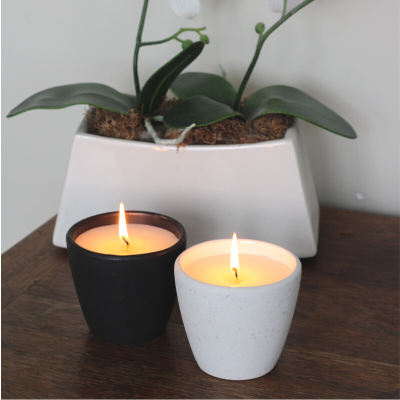 Anchoring table settings with ambiance, Alina Candles' hand-poured soy wonders are more than just light sources—they're centrepieces. Crafted in beautiful reactive glazed bowls from Portugal's renowned Alcobaça region, they exude charm even after their wicks burn out. Explore their colour palette here.
Choice of Scandinavia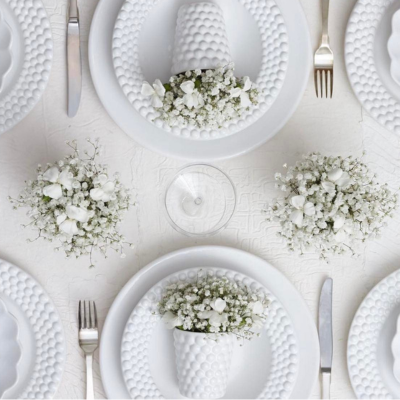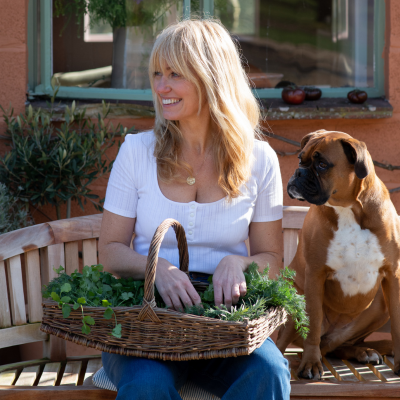 Channelling the pristine elegance of Scandinavian design, this brand showcases the beauty of simplicity. Whether it's twig-adorned tables or mismatched crockery, their products champion the art of understated grace, urging you to find beauty in every detail. Witness their design philosophy here.
True Linen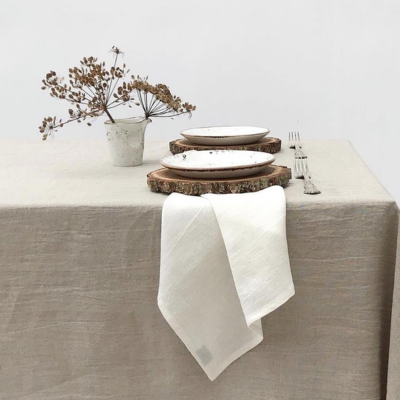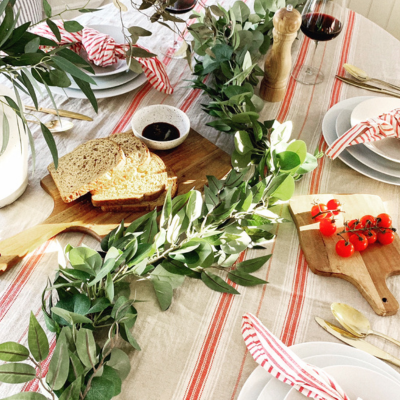 Embark on a sensory journey with True Linen's stone washed fabrics. Produced in a family-run mill, their products emanate rustic charm and luxurious comfort. Every wrinkle tells a tale, adding depth to your dining narrative. Dive deeper into their European heritage here.
We Love Seasons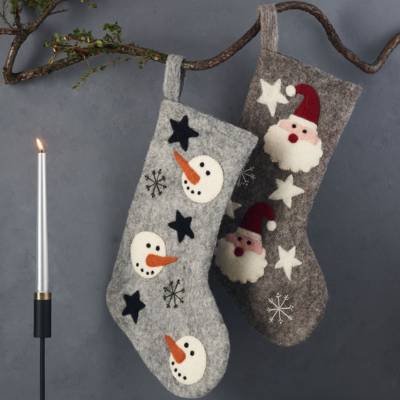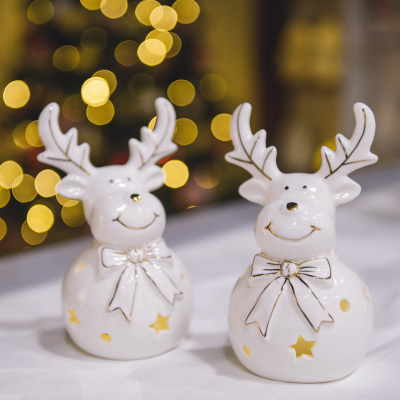 Merging sustainability with sophistication, We Love Seasons curates wood and ceramic marvels that redefine table aesthetics. Whether it's a sleek wooden reindeer or a ceramic Santa, their pieces blend in, yet stand out, setting the stage for unforgettable feasts. Experience timeless elegance here.
This year, let your table reflect your exquisite taste. Enjoy the design wonders and draw inspiration from the Spirit of Christmas Fair. With a treasure trove of offerings perfect for festive hosting, you're ready to create an exceptional tablescape.
ProWare Kitchen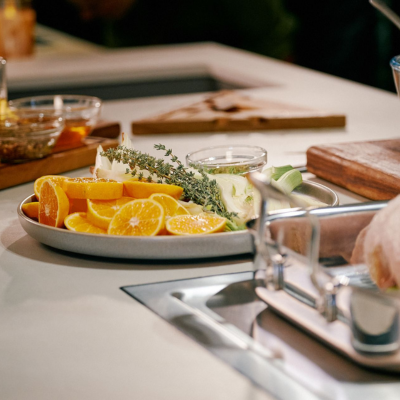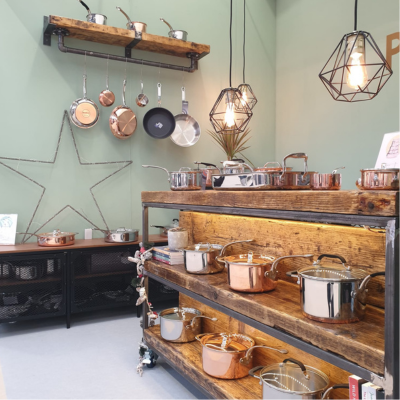 Whether it's homemade mince pies or family Christmas cake recipes, there's no denying that Christmas is the foodie gift that keeps on giving. With all this cooking, ProWare offers professional-quality cookware that is both beautifully designed and thoughtfully engineered. Enjoy the festive season by cooking a scrumptious meal for the family with these tools of excellence! Discover more about ProWare here or visit their website here
Inspired By Nicola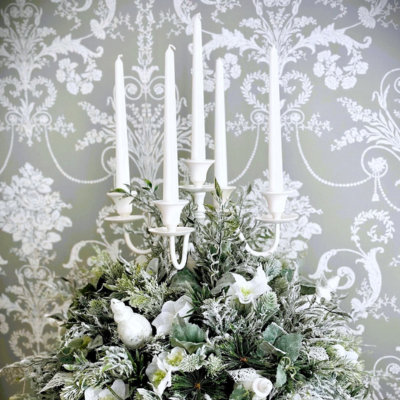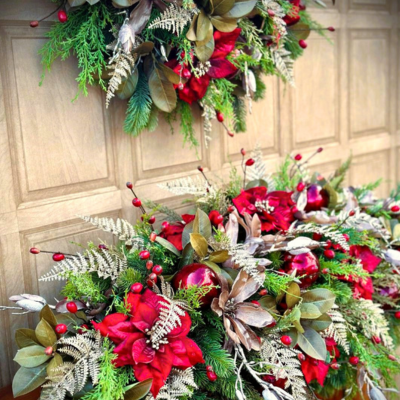 The key to success to any dinner party is the preparation, and not just the food you serve but the first impressions you make, and by creating a beautiful and memorable tablescape to present to your guests as they arrive, is as important as the food you serve. Complimentary to Inspired By Nicola's festive floral arrangements, floral candelabras, and advent wreaths, are coordinating floral decorative napkin rings and such like. Surrounding walls and surfaces should also be considered, especially at the festive time, and displaying ornamental wreaths and garlands can make an impressive addition.
Meet the artist herself at the Spirit of Christmas Fair, to discuss your perfect, one-of-a-kind centrepiece or collection, designed and created by Inspired By Nicola.
Book your tickets here now to kick-start Christmas at the home of Christmas shopping.
To plan your visit, click here or to discover why you should attend The Spirit of Christmas Fair, explore our blog on the 700 reasons to visit here.