House & Garden Magazine's Top Picks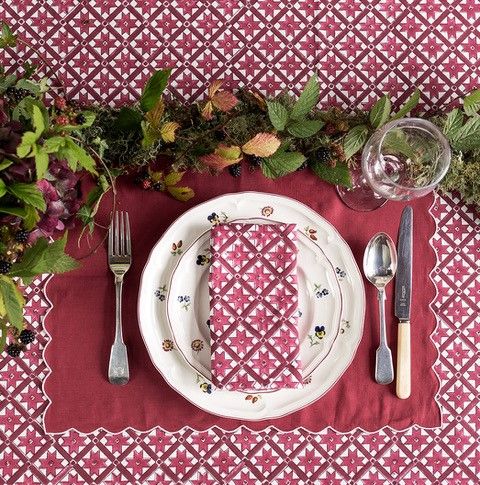 Fun at the Fair
Working in collaboration with the House & Garden Magazine team, every brand that joins us at Spirit of Christmas Fair is vetted to ensure we present to you high-quality craftsmanship and beautifully designed products.
The wonderful Laura Normanton, Executive Editor of H&G, has selected her product highlights from our brilliant boutiques. Drawing closer to the festive season, we're thrilled to share with you even more gift inspiration to ignite your imagination, ensuring you pick the most devine presents for your loved ones this year!
Luxurious Gifts for Ladies
Choosing gifts for a lady isn't always easy, but Laura's highlighted three beautiful pieces that we simply adore. Her top picks include the pretty 'Lizzy' cotton poplin nightdress from
If Only If - the classic design was inspired by styles found in vintage French markets!
If you really want someone to know how truly special they are, the precious 'Palermo Drop' 18ct gold vermeil on sterling silver pearl necklace from Davina Combe will do just the thing!
For a touch of delicate style, this intricate fashion accessory - the 'Martha' linen reversible collar - is handmade from 46 Stitch and would be a fabulous addition to the 2022 wardrobe.


Tantalizing Treats
With a line-up of award-winning and darn right delicious food and beverage brands at Spirit, it will be hard to buy gifts for others when you want to try it all yourself...
For the foodie fanatic that dines like a royal, the 'Cornish Salted' Exmoor Caviar is out of this world. Its rich and creamy, yet nutty finish will be delightfully devoured by those with fine taste!
For a crafty connoisseur that loves their gin, the 'London Dry' edition produced by Elephant Gin is sure to be loved. Mastering a fruity yet spicy flavour, this tipple can be enjoyed both straight and in a cocktail!


The Christmas Touch
Sophie Allport's homeware range is all-round amazing, but the Christmas collection just tops it off, especially with the 'Festive Forest' Christmas stocking. Whether it's stuffed with little treats or just hanging for decoration, it's a great festive touch to a home.
Dressing the dining table for the almighty Christmas dinner is an important part! As we gather round to enjoy this meal where cheer and love is spread, placing these 'Red Berry' cotton hand-block printed napkins down from Sarah K will add to the festive theme.
Known for her adorable art, the 'Robin and Mistletoe' chopping board with butterflies on the reverse from Chloe Gardner would be an amazing gift for any bird or nature lover.
Home Additions
Looking for a unique gift for the home? Agata Treasures' 'Abbondanza' hand-crafted clay vase would be a fantastic choice! Depicting a young Sicilian woman, the vase can either sit on its own, or be filled with decorative flowers to brighten up a shelf or cabinet.
They say art is in the eye of the beholder, but who wouldn't love this gorgeous quail bird print from the ever-so talented Anna Wright? Using watercolours, pen and ink in the original… out came a beautiful masterpiece!
Renowned for her bright colours and eccentric patterns, these vibrant tumblers from Bell Hutley made the list, and rightly so! Perfect for picnics or parties, the 'Tiger Lily' tumblers are handmade from enamelware making them durable and a fantastic (and sustainable) solution to using disposable plastic cups - a great great for an eco-conscious loved one.
-----------------
Thank you to House & Garden Magazine - partner of the Fair for their continued support.
With only a few weeks left until Spirit, we are excited beyond belief to be back next month celebrating our 21st anniversary with you!
As you step into the halls of Olympia London which will come alive from the 31 October to the 6 November with festive spirit in the air, immerse yourself in the most fantastic Christmas shopping experience as you are faced with an incredible line up of over 700 independent brands with unique and off-the-highstreet gifts to discover.
If you haven't booked your tickets yet (there's a saving when you book in advance), you can do so here.
All our love,
The Spirit of Christmas Fair Team x