ALAN PAINE NAVY FLEECE GILET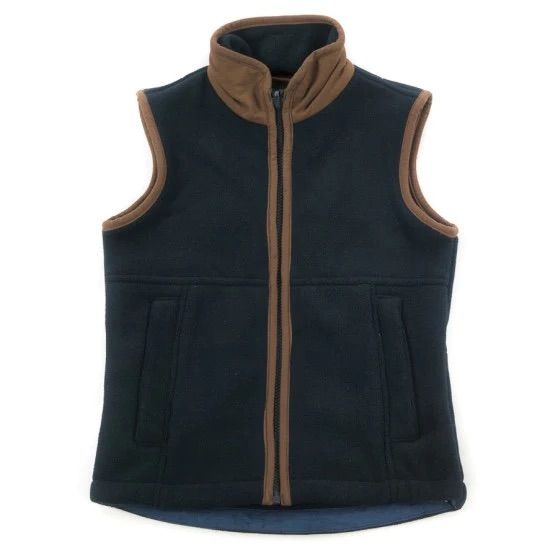 Crafted with the utmost attention to quality and detail, the Alan Paine Navy Fleece Gilet is designed to keep kids warm and stylish during outdoor activities or everyday wear. Here's what sets it apart:
Premium Materials: Constructed from high-quality fleece fabric, this gilet is exceptionally soft and cozy, ensuring that your child stays snug in cooler weather.
Timeless Design: The gilet boasts a classic and unisex design, making it suitable for both boys and girls. Its timeless appeal ensures that it will never go out of style.
Versatile Layering: The sleeveless design allows for easy layering over sweaters, long-sleeve shirts, or under a jacket, making it suitable for various seasons and occasions.
Practical Pockets: Equipped with multiple pockets, this gilet offers convenient storage space for small essentials or chilly hands, adding a touch of functionality to its fashion-forward design.
Durable Construction: Alan Paine is renowned for its commitment to durability and craftsmanship. This gilet is built to withstand the rigors of children's active lifestyles, ensuring it remains a wardrobe staple for years to come.
Elevated Style: The Alan Paine logo and subtle detailing provide a touch of sophistication to this children's gilet, elevating your child's fashion game while keeping them comfortable.
Easy Care: This gilet is easy to care for, making it a practical choice for parents. Simply toss it in the washing machine when needed, and it will maintain its quality.
Whether your little one is heading to school, exploring the great outdoors, or simply playing in the backyard, the Alan Paine Navy Fleece Gilet ensures they are dressed in warmth and style. Give your child the gift of comfort and fashion with this versatile unisex gilet that's ready for any adventure.
Navy fleece gilet
Faux suede trim
2 zipped pockets
Internal toggles to bring in the waist at the back and bottom seam and the back hem is lower than the front for extra warmth
High collar, can be turned down
Wash at 30º
Please note; regarded as GENEROUS SIZING