28 May 2021
Fashion's Finest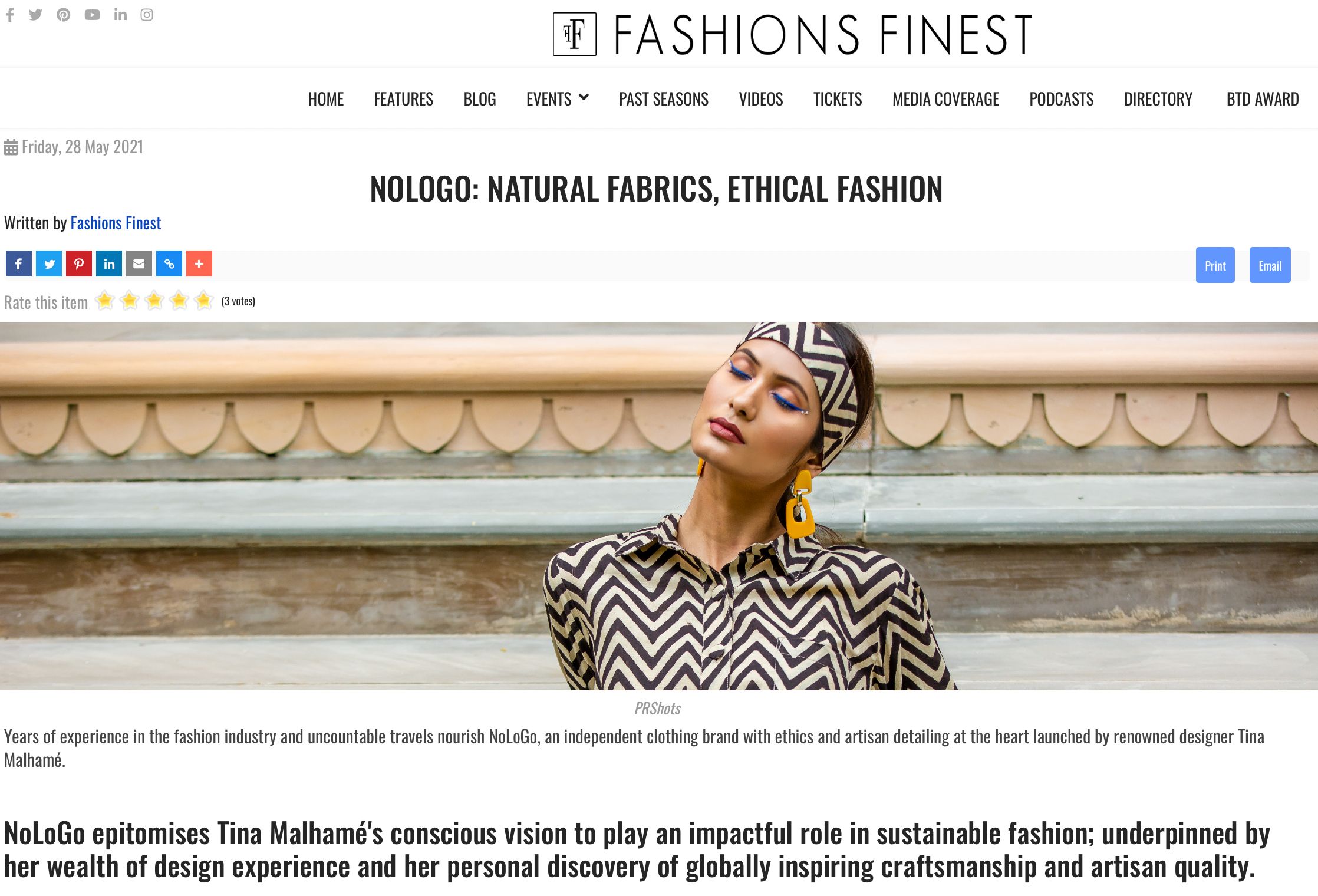 NoLoGo: Natural Fabrics, Ethical Fashion
Today's customers privilege ecological and ethical fashion in an attempt to gain independence and show responsibility. NoLoGo does not follow the green trend, but it embodies a personal ideal. Mulhamé's mission is to bring morally sourced, designed, and fine artisan craftsmanship to the discerning women. Each garment is a reflection through a well-travelled lens, each carefully designed and sourced with its own unique detailing, meaning each piece is as individual as the woman who wears it.
NoLoGo: Naturally Beautiful Fashion
NoLogo is an imaginary journey through colours, pattern and sensation from exotic destinations. The label inspires to press pause and get lost in peaceful thoughts while relaxing in fully flattering clothes. NoLoGo's ethical wardrobe comprises everyday staples with beautiful decoration, sleepwear and resort wear made with the finest natural fabrics enriched by handcrafted and handprinted designs. Behind each piece lies authentic ethnic craftmanship true celebrating the traditional techniques of the locality in which it was produced. To accompany such natural beauty, NoLoGo offers eco-friendly jewellery and accessories made of coconut, raffia and seashells.
About The Founder: Tina Malhamé
Tina is an award-winning fashion designer and nomadic soul. She started her career with design genius Sir Terence Conran as a junior designer for The Design Group. Named the 'most prolific designer on the High Street' by the high street guru, George Davies; Tina had the pleasure to design collections for many loved stores such as Next, Monsoon, Laura Ashley, Mothercare, Anokhi, Daniel Hechter in Paris, Per Una and more. Throughout her career Tina has been recognised and revered by the industry, receiving numerous awards including the Christian Lacroix Award for International Linen Design. NoLoGo is the stop in Tina's ethical journey that saw her previously working as an adviser to the EU in Brussels to promote good design for Indian manufacturers.
Tina's mission goes beyond fashion. Customers will soon be able to rest easy and sleep soundly with the soon-to-be-launched home linens collection. In this comfortable wait, we leave you with Tina's words:
'I journeyed far and wide in my career as a designer, from Italy to India, Paris to the Philippines, Sri Lanka, Hong Kong and beyond. I have been honoured to design alongside inspiring crafts people, working tirelessly to continue traditions such as block printing, hand embroidery, batik, dip dye and tie-dye techniques and weavers who create magic at their looms. Many garments have the crafts person's heart and soul worked into it. These pieces have a story to tell. Clothing and accessories which will become favourites. To keep. To treasure. To love.' Tina x
Discover NoLoGo ethical collections online at NoLoGo Chic.