22 Oct 2021
Give a bit of Mischief & Mayhem this Christmas - Lord of Misrule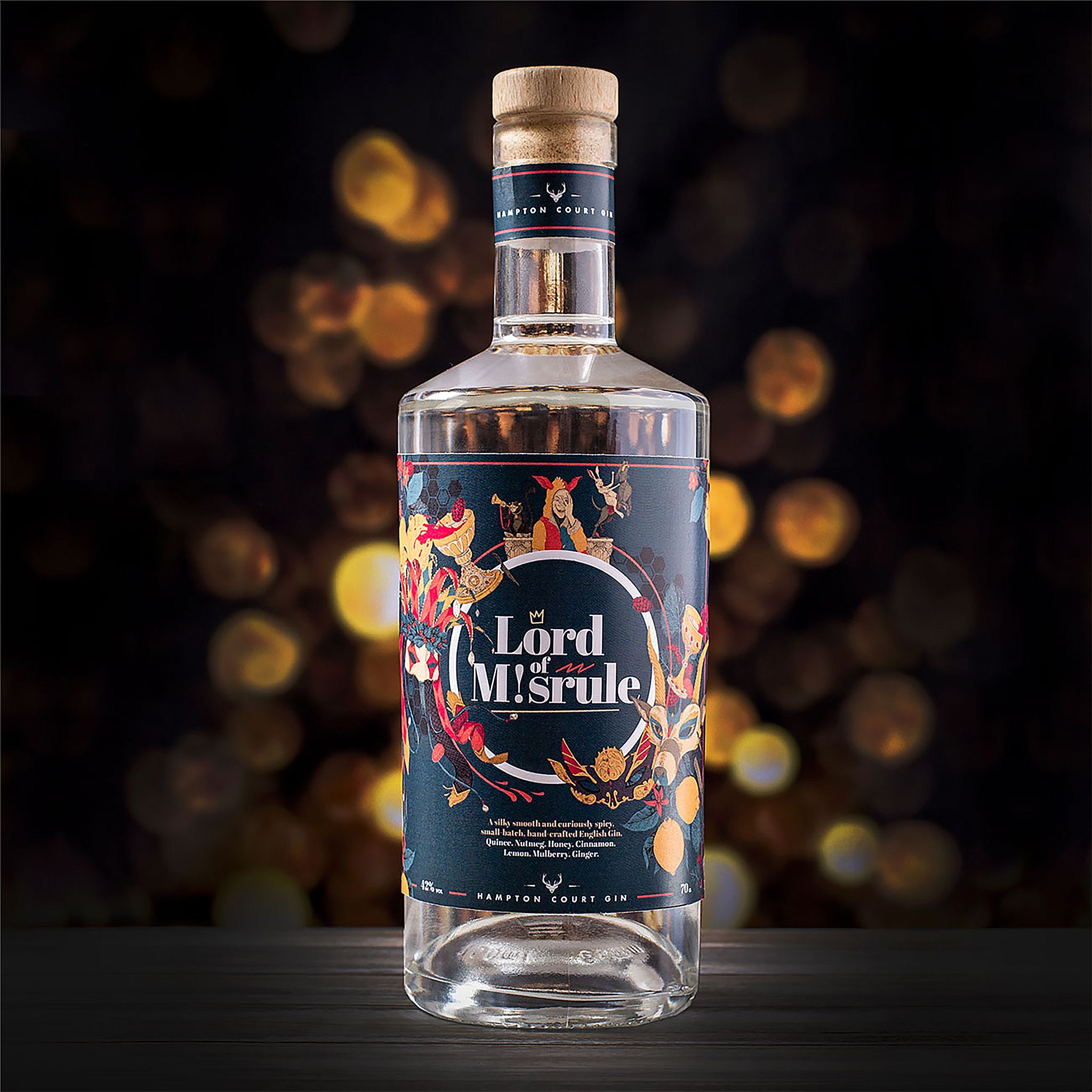 New from Hampton Court Gin, is a refreshingly warming and curiously spicy gin 'Lord of Misrule' with a fascinating background story, making a very unique and different gift this Christmas.
Every Christmas Henry VIII and his Nobles would appoint a Lord Of Misrule, deliberately chosen from the lower classes, which meant that for the 12 days of Christmas the position of King and servant would be reversed. His title gave him complete authority over the Court's raucous feasts and opulent masquerades, culminating in the Feast of Fools. He would be master of Mischief and Mayhem, in charge of games and entertainment, even the King would have to bow to his authority.
The Lord of Misrule's botanicals are inspired by those that would have featured in the Tudor festive feasting; quince, nutmeg, cinnamon, mulberry, ginger, grains of paradise, cubeb berries and honey. It is distilled 22 times to make a silky smooth and curiously spicy 42% small-batch, hand-crafted English gin.
Hampton Court Gin's founder Simon Marjoram says, "I thought it could be great fun to replicate the Lord of Misrule tradition now and set about developing a gin that was playful and contradictory in taste, to reflect the mischievous and naughtiness of the Lords of Misrule in the past. The QR code on the bottle links though to our website where you can buy our gin, and we are developing a section with suggestions on how to appoint a Lord of Misrule at a festive gathering, and ideas for fun games and forfeits that can be played."
Lord of Misrule is a unique and unusual Christmas gift, perfect for the host of a festive gathering, a present for Christmas Day, or simply to be enjoyed by yourself. The beautiful hand drawn label demonstrates the same skill and creative flair that goes in to creating the small-batch, lovingly hand-crafted English Gin, inside the bottle.
Lord of Misrule is £38, 70cl, 42%, launching on 1st November 2021.
We will be exhibiting at The Spirit of Christmas Fair, Olympia London, 1-7th November 2021, sampling and selling bottles of The Six Wives and Lord of Misrule.
www.hamptoncourtgin.com
For further information contact hello@hamptoncourtgin.com Tel: 07747600008
---
About Hampton Court Gin
For over 20 years Simon Marjoram and his team have been creating award winning marketing campaigns for major global spirits brands, both new and old. And at the heart of every spirit must be an authenticity in the storytelling – a reason for why this gin is made the way it is. Sometimes that has been a challenging task.
Every morning for 20 years, Simon has walked his dogs, Fizz and Inky, along the River Thames at Hampton Court. His team are in Hampton Court. And whilst Hampton Court is a contemporary, creative community we are surrounded by 500 years of epic storytelling.
And so Simon set out to create Hampton Court Gin, a series of modern gins that define one of the most intriguing and captivating periods in British history and whose very essence – the botanicals - are firmly rooted in researched Tudor literature.
Our first gin, launched in June 2021.
The Six Wives – with six botanicals, each of which would have been grown in Henry VIII's kitchen gardens or were spices imported for his legendary feasts.
Orange, first introduced to England by Katherine Of Aragon. Thyme from Cardinal Wolsey's gardens. Cubeb Berries from Java. Grains of Paradise from West Africa. Bitter Almond and Juniper.
What makes our gin unique is that we then distil it 22 times to give it an exceptionally smooth, balanced flavour.
We were awarded Silver Medal at the Global Gin Masters Awards just 3 weeks after launch.