Create an At-Home Spa With Spritz Wellness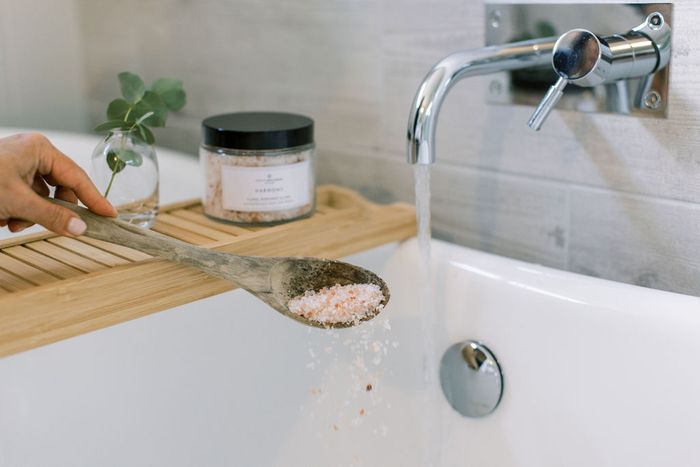 How to Create an At-Home Spa
Our homes have become multi-functional spaces, we now rely on them for an array of uses from home working to relaxation and escape from the outside world. Increasingly, we are seeking tranquility from our homes and feel the need to create a sanctuary that we can retreat to and escape the stresses of daily life. One way to do this is to create an at-home spa. A monthly or weekly ritual that can be included as part of your routine to ensure that you are getting your dose of self-care.
We have collated a combination of products and steps that you can take to create your own at-home spa.
PURIFY YOUR SPACE
There really is nothing better than entering a spa and feeling enveloped in a soothing and revitalising scent. In order to create the same effect at home, find a room mist that you feel is relaxing and soothing. The Spritz Wellness Purify Atmosphere Mist is a natural way to clear the air. It is crafted with a unique blend of five stimulating, antiseptic, antiviral and anti-fungal plants that clears that air of bacteria, leaving a clean and fresh scent. Harnessing the power of Lemongrass, Ravensara, Lavender, Tea tree and Eucalyptus, the Purify Atmosphere Mist is formulated to support an overall sense of wellbeing, making it the perfect scent for an at-home spa.
Scent has the power to transport you to somewhere new so by focusing on crafting a relaxing scent scape you can sit back and relax in your very own spa-like sanctuary.
HYDRATE
One ritual that is enforced when visiting a spa is to drink water and stay hydrated. When creating a spa at home, this ritual should not be forgotten. Staying hydrated helps us to feel refreshed, energised and also is important for regulating our bodies processes and body temperature. To enhance the benefits of drinking the suggested 6-8 glasses of water per day, you can enhance these benefits further by adding fresh fruit into your water. Take a carafe and fill it with ice, water and lemon. The lemon will not only add a refreshing taste to the drink but will also provide Vitamin C and detoxifying properties to promote overall wellbeing.
PAMPER WITH NATURAL HAND AND BODY SOAP
An easy way to transform your bathroom into an at-home spa is to enhance your bath time rituals with a all-natural body soap and bath salts. The addition of these two products will help to fill your bathroom with a soothing scent but will also nourish the skin.
The Spritz Wellness Purify Body Soap is enriched with French Green Clay to cleanse away impurities while toning and firming the skin. When added to warm water the natural soap also releases the purifying scents of Lavender, Lemongrass Tea tree and Eucalyptus.
In addition to the benefits of French Green Clay, natural bath salts calm and soften skin- creating the perfect combination for an at-home spa day. The Spritz Wellness Harmony Bath Salts are made from a blend of Epsom and Himalayan salts to ease muscle pain, calm the body and soften the skin. As the Himalayan Pink Salt is rich in minerals, the blend will also cleanse and purify whilst aiding circulation. For best results, it is recommended that you add bath salts to a warm bath and allow the body to soak for at least fifteen minutes.
As an extra special touch, use a bath tray and body brushes to enhance the at-home spa experience. By laying your products out on a bath try and applying them with bath brushes you can also elevate the spa atmosphere and intensify the benefits of the products through massaging the skin.
UNWIND WITH MUSIC
Finally, to really create a calming atmosphere, create a playlist of a select few songs that you find to be relaxing. Play the songs at a low to medium volume to ensure that the atmosphere remains spa like. Use the playlist as the backdrop to your whole at-home spa day or after you have nourished your skin and purified your space you could unwind with an Aromatherapy Eye Pillow or Aromatherapy Eye Mask and drift off for a sumptuous afternoon nap.